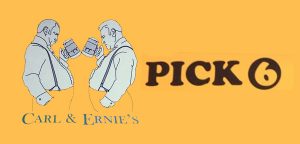 Every week on Thursday or Friday during the Football and Basketball season Carl & Ernie's Good Time Pub and Grub brings you the Pick 6 on KGYM!
Our "Experts" pick 6 games each weekend and then we give you an opportunity to hook yourself up to one of the prognosticators.
If your expert wins; you will receive a $30 Gift Certificate to Carl & Ernie's in Iowa City!
Tune in at 3:40 every Thursday during High School Football season and every Friday afterwards through basketball for your chance to win with Carl & Ernie's and KGYM!