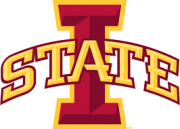 As an affiliate of the Cyclone Radio Network, KGYM brings you the excitement of Iowa State Cyclones football in the fall and men's and women's basketball during the winter on our historic 1600 AM frequency.
Additionally, every Monday night during the season KGYM airs the Applebee's Cydline Show from Ames as host John Walters and a panel of guests not only discuss Cyclones athletics but take calls from fans as well.
John Walters handles play-by-play action for both football and women's basketball while Rich Fellingham serves as the voice of the ISU women's basketball team.
Iowa State Football / Basketball Presented By