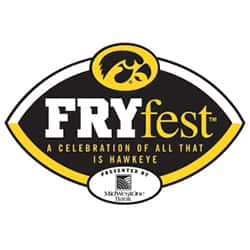 Get ready to be in "Hawkeye Heaven" at this year's FRYFest 2017, FRYday, September 1st!
FRYfest is a day to celebrate all that is Hawkeye, getting you ready to kick off Hawkeye Football this season!
Make FRYfest a part of your Hawkeye tradition with activities like the signature Hawkeye Pep Rally, former player panel discussions, autograph sessions, Hawkeye Fashion Show, PLUS The Pork Tornados and Arch Allies will be performing on stage at 8 pm, and FRYfest will once again end with a bang with a huge Fireworks Display!
And all this week tune into The Todd Brommelkamp Show w/ Alex Kuhn between 4 – 7 PM and Todd and Alex will have your chance to win 4 admission wrist bands to the FRYfest High Porch Block Party on FRYday September 1st!
Stop by and see The Todd Brommelkamp Show with Alex Kuhn who will be broadcasting live from 4 – 7 PM from the World's Largest Hawkeye Tradeshow (in the exhibition hall of the Coralville Marriott).
Grab a numbered card for your shot at $100 CASH we will be giving away on air sometime between 3 – 7 PM on Tuesday, September 5th! You just have to listen to win!
For more information check visit FRYfest.com!