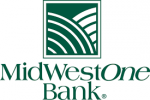 Listen to the Afternoon Players Club each weekday afternoon for the Big Board Update – with the latest on local/regional/national sports news twice an hour!
The Big Board Update is sponsored by MidWest One Bank – headquartered in Downtown Iowa City, with over 40 locations across the corridor and beyond! You can bank the way you want, mobile, online, or in-person.
MidWestOne Bank is the proud sponsor of FRYfest, the celebration of all things Hawkeye, September 1st, 2017 in the Iowa River Landing in Coralville
The Big Board Update on the APC on KGYM presented by MidWest One Bank…You're The One.