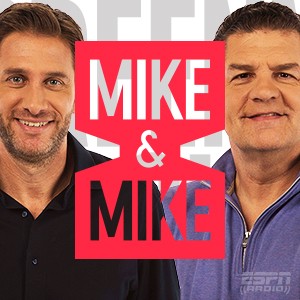 Mike & Mike is the premier sports-talk morning show in America!  These two guys cover all the bases when it comes to sports, from the serious to the ridiculous, with their very own way of looking at things.  Check them out weekday mornings on KGYM!  Here's a little bit of background on the guys:

Mike Golic is co-host of ESPN Radio's Mike & Mike in the Morning show, 5-9AM on KGYM.  The show premiered October 12, 1998.
Golic is a nine-year NFL veteran, playing defensive tackle for the Houston Oilers, Philadelphia Eagles and Miami Dolphins. During his seven years in Philadelphia, he began his television career with a weekly segment on the Randle Cunningham Show. He received a Mid-Atlantic Region Emmy Award for his feature "Golic's Got It."
Golic, born Dec. 12, 1962, is a 1985 graduate of the University of Notre Dame where he served as captain of the football team during his senior season. He also wrestled for the Irish.
---
Mike Greenberg is heard on ESPN Radio each weekday morning 5-9AM as co-host of Mike & Mike in the Morning, with Mike Golic, a show he joined on December 30, 1999.
Greenberg is also frequently an anchor for the 6 p.m. SportsCenter, ESPN's flagship news and information program.
Prior to joining ESPN Greenberg had worked as a sports anchor/reporter for the regional cable news network CLTV in Chicago, Ill., since April 1995. In addition, Greenberg had worked for Chicago's WSCR-Radio (1992-96) serving as a reporter (covering events including the World Series, Super Bowl, etc.) and talk show host.
Born August 6, 1967, Greenberg is a 1989 graduate of Northwestern University's Medill School of Journalism. The New York City native is married and has two children.