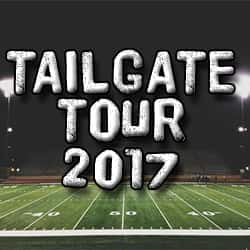 Thursday and Friday nights during the fall are reserved for FOOTBALL and that means those same afternoons are reserved for the High School Tailgate Tour 2017!
Each week our staff travels to area high schools to get staff / students / fans pumped up for that night's game with a live on-site broadcast from 3 – 4 PM.
KGYM's Scott Unash hosts Tailgate Tour stops on the North Gym while Gary Fickle covers things on the South Gym. Each stop includes interviews with coaches from the school as well as great prizes and food from our sponsors.
A big thanks to our sponsors helping us out each week to provide food, drink, and prizes (varies by location): Iowa National Guard, Happy Joe's Pizza, Chick Fil A Coralville, Dr. Pepper, Prince Alberts Tuxedos, Marcus Theatres, Popeye's Chicken, Unity Point Health-St. Luke's Hospital Community CPR Team, Cedar Rapids Parks & Rec, Heritage Area Agency on Aging, La James International College, Johnson County Public Health, and of course KGYM Radio!
Check out the schedule when KGYM will be headed to your school below!
107.5 North Gym Tailgate Tour Stops:
Thursday, August 31st: Cedar Rapids Jefferson
Thursday, September 7th: Cedar Rapids Kennedy
Thursday, September 14th: Cedar Rapids Washington
Friday, September 22nd: Cedar Rapids Xavier
Friday, October 6th: Linn-Mar
Friday, October 13th: Marion
Friday, October 20th: Cedar Rapids Prairie
106.3 South Gym Tailgate Tour Stops:
Friday, August 25th: Iowa City Regina
Friday, September 8th: West Branch
Friday, September 29th: Solon
Friday, October 6th: Clear Creek-Amana
Friday, October 13th: Iowa City West
Friday, October 20th: Iowa City High