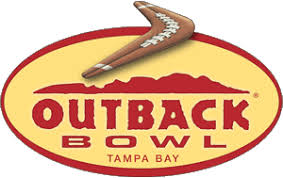 By Todd Brommelkamp/KGYM Radio
TAMPA – Iowa and Mississippi State have completed their walk through of Raymond James Stadium.
Several thousand Hawk fans who have turned up in Tampa gathered at Sparkman Wharf for the Hawkeye Huddle this afternoon.
And the media hospitality room is fully stocked for New Year's Eve.
This is the calm before the storm.
The 33rd Outback Bowl will be played here tomorrow and everyone seems ready for things to be over.
Most media members will either publish their game predictions later this evening or tomorrow morning. Spoiler alert: expectations are for a low-scoring Mississippi State victory. I can't say at this point that the sentiment is unanimous among those of us who cover the Hawkeyes for a living – a few writers have yet to share their views with me – but the outlook is bleak for Iowa.
Of course, there's a reason they play the game.
The Hawkeyes are no stranger to playing the role of underdog here. In their five previous trips to the Outback Bowl they have been favored by oddsmakers just once. The Hawks easily covered as a 3.5-point favorite against South Carolina in the 2009 game.
Mississippi State remains a 7-point favorite for betting purposes.
I've got Mississippi State winning 24-13. How I arrived at that final tally, I can't tell you. I wouldn't be surprised if the Hawks were able to keep things close tomorrow. What would shock me is a Hawkeye victory. The Bulldogs have an elite defense and without tight end Noah Fant available for Nate Stanley to utilize, it just seems like its too much to overcome.
Of course, there's a reason they play the game.
Get some rest. Things may be calm now but they won't remain that way for long.
Kickoff is set for 11 AM CST.