SHOW SCHEDULE

The Chad Benson Show
Weekdays 5am to 8am
Chad Benson doesn't look or sound like a typical talk radio host. And that's a GREAT thing. Conversational, informative, irreverent and very FUNNY. Chad's take on the issues offers a refreshing sound that gives talk listeners the hard news and opinion that they need in a thoughtful, entertaining way that they CRAVE.
Dave & Mahoney
Weekdays 8am to 10am
From the dry and scorching hot conditions of Sin City, Dave & Mahoney bring their sick and twisted sense of humor to the new GYM OT! Along with co-host Audrey and producer Ian, get an alternative perspective on the biggest stories in the country and their take on sports and pop culture.
Second Level with Eytan Shander
Weekdays: 10am to Noon
The newest show to hit GYM OT. SportsMap Radio Network (formally SB Nation) host Eytan Shander is entertaining, informing and leading on his new show the Second Level.  Join Eytan Shander weekdays from 10am to Noon only on GYM OT. 107.5fm in Cedar Rapids!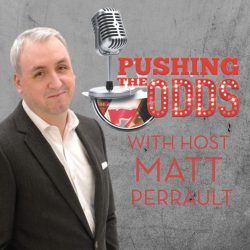 Pushing The Odds with Matt Perrault
Weekdays Noon to 3pm
Pushing The Odds with Matt Perrault originates from the Las Vegas Strip every week day on the new GYM OT! Never shy to voice his opinions, Perrault is known for owning the ears of his loyal fans. His honest approach to sports talk radio and engaging style have attracted an audience that enjoys interacting with him every day from Noon to 3pm, only on the new GYM OT. 107.5fm in Cedar Rapids!
Chiney & Golic Jr.
Weekdays from 3pm to 6pm
With a finger on the pulse of sports and culture, your afternoon drive will never be the same. Chiney & Golic Jr. are a youthful and energetic pair, committed to delivering the most entertaining, intelligent and nuanced content on radio. One thing they both know is providing relevant and impactful content, which in the process will lessen divide between athletes and the media.


OTHER PROGRAMMING