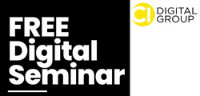 Z102.9 & CI Digital Group invites you to a FREE Seminar in Digital Marketing on Tuesday, April 11th!
Learn how to actively drive more traffic to your website, increase you ranking on Google and so much more!
Plus – get a complimentary Digital Assessment of your business just for attending!
RSVP now, space is limited!
Marion Public Library 9:30 AM – 11 AM
ㅤ
BioVentures Center in Coralville 1:30 AM – 3 PM
ㅤ
Get all the seminar details at cidigitalgroup.com!