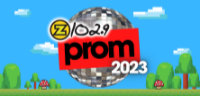 The Z102.9 POWER UP PROM will be on Saturday, April 29th at 7:30 PM at the DoubleTree by Hilton in downtown Cedar Rapids! This year's theme is video games!
Whether you went to the arcade or played on your favorite gaming system, the POWER UP PROM will bring back some of your favorite video game memories while you dance the night away. And because you'll eventually need a break from all that dancing, our friends at Video Games Etc. will be hooking us up with games to play while you power back up!
Come dressed to impress – Prom attire is recommended! Read Photography will be capturing stunning classic posed Prom pics with your date or group of friends!
Tickets are ON SALE NOW! Purchase tickets here at z1029.ticketleap.com/z1029-prom/ or save $5 and get your tickets in person at Theatre Cedar Rapids box office!
Must be 21+, photo I.D. required.
Cash bar available.