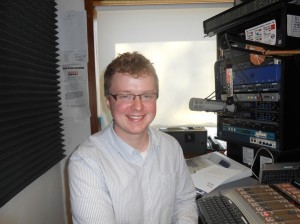 Sam Kienzle is an associate producer and board operator at KGYM. He also updates the KGYM listening audience with sports, weather, and news on nights and weekends. He has been with KZIA, Inc. since August of 2012. Sam was born and raised in Iowa City–just a few blocks from Kinnick Stadium–where he heard the roars of the crowd while riding his Big Wheel as a youngster. Sam attended Iowa City West High School, where he graduated in 2005.
Sam went on to study Geography at the University of Iowa, specializing in environmental studies. He graduated in 2011. So what's a guy with superb mapping and essay-writing skills doing at a sports radio station? Sam began work at the University of Iowa's student-run radio station, KRUI, in 2010. At KRUI, he primarily wrote and edited sports pieces for KRUI's website while also hosting Iowa football pre-game shows. He covered collegiate athletics.
As an eighth-grade cornerback and offensive guard at Iowa City Northwest Junior High, Sam's head was too big for Northwest's standard-issue white helmets. The coaches at Northwest had to borrow a gold helmet from Iowa City West. For the rest of the season, Sam's role was to stand on the sideline, intimidating opposing players as the secret weapon with the golden helmet. Northwest went 8-0 that year.
Sam enjoys blues music, doing impressions of dead celebrities (Jimmy Stewart, Edward G. Robinson), and anything outdoors–including farming on his parents' organic operation in Walcott, IA.