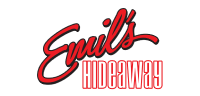 Tune in to The Gym Class every weekday from 3 to 4 p.m. for the Emil's Hideaway Scoreboard, when Scott and Mark run down the big scores of the day!
Get together with your buddies for drinks or bring the family to Emil's Hideaway for classic, local, American food. Start with the Redneck Nachos or the Chicken Rangoon and then the Cuban, the Reuben or the Thai Peanut Butter Burger – the kitchen's open from 4 to 9 p.m. and the bar closes at 11 p.m. Monday through Saturday. There's also curbside carryout, online ordering and delivery.
Find the menu at emilshideaway.com or drop by off First Avenue near Lindale Mall. It's a great place to meet up with friends!