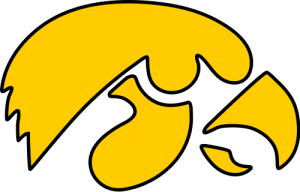 By Todd Brommelkamp/KGYM Radio
It wasn't pretty for the Iowa men's basketball Thursday night in West Lafayette but, then again, we should have seen this coming.
After all, the last time Iowa played a Big Ten road game this season it was ugly.
And, last season, the time before that. And the time before that. And on and on.
You've probably seen the statistic by now. Last night marked the 10th straight Big Ten road game where the Hawkeyes trailed by at least 17 points during play. I'm not John Wooden (a Purdue alum, by the way) but even I can tell you that's a recipe for disaster in a league like the Big Ten.
Imagine Kirk Ferentz's team trailing by two touchdowns and a field goal in 11 consecutive road games. Eleven and not 10? Yes, if you include Iowa's 2017 visit to Ames which starts the string of falling behind big.
Were emotions running high as Purdue honored the passing of super-fan Tyler Trent? Yes.
Did not playing a medically-cleared but still hobbled Luka Garza hurt the Hawks? Yes.
Neither of those facts made one bit of difference in a game that was as non-competitive as this one. Purdue was favored by 9.5 points prior to tip-off for a reason – it was the better team.
For 10 minutes it looked like the Hawks could hang with a good, but not great Boiler team. But it was the final 30 minutes that looked all too familiar to Iowa basketball fans.
This team is 0 and 3 in Big Ten play. The road to an NCAA tournament berth doesn't get any easier for a team that was 4 and 14 in league play last season.
We've been told ad nauseam this year's version of the Hawks would be better defensively. But we've seen Bryant come in to Carver-Hawkeye Arena and breeze to the bucket.
Bryant, a 30-point underdog out of *visits Google* the Northeast Conference.
The most optimistic Iowa basketball fan will tell you it's too early to panic. Just the other day someone directed a tweet my way bemoaning the fact the media and some fans always act as if the sky is falling. Well, if you've ever wanted to reach up and touch the clouds, now may be your chance.
Apathy is about to set in once again in Carver-Hawkeye Arena. That's something Gary Barta can't afford. He also can't afford, whether you think it's warranted or not, a change at the top. After all, he's the one who quietly signed Fran McCaffery to a contract extension last season that would cost the school millions in a buyout.
Nine million to be exact, provided McCaffery would be terminated prior to July 1.
That makes Todd Lickliter's $2.4 million parting gift seem rather pedestrian, doesn't it?
Lickliter, who had a myriad of faults and proved to be the wrong man for Iowa in a number of ways, was panned by Iowa fans for his boring style of play but fans would have embraced 50- and 60-point games if they came with Sweet 16 appearances.
McCaffery's arrival brought with it the excitement of a return to the sort-of-glory days of Tom Davis' up-tempo play. But a sometimes astute radio crank said at the time fans would soon tire of scoring 80 points and losing.
To quote every child from the backseat ever, "are we there yet?"
And, if you answered in the affirmative, back up about five paragraphs and re-read it.
The Hawks need wins, something they're not getting enough of in the Big Ten, especially on the road where it's imperative a tourney-bound team steal a victory or three from time to time.
There are 17 conference games remaining, offering plenty of time for Iowa to turn things around.
Or not.