By Todd Brommelkamp/KGYM Radio
Nothing could represent the futility of the early 90's Chicago Cubs like a baseball card of a position player forced to pitch in a blowout loss.
Behold, the greatest baseball card ever mass produced.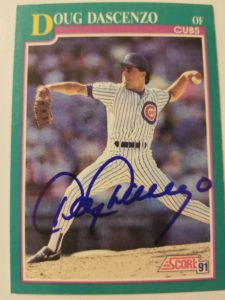 No, not the world famous Honus Wagner T209 tobacco card. I did write "mass produced" after all.
This is Doug Dascenzo's 1991 Score baseball card. Number 209 in the first of two series put out by the then four-year-old baseball card company.
The diminutive outfielder is pictured pitching – yes, pitching – in a 19-8 lopsided loss against the Mets June, 12, 1990 at Wrigley Field. Of the five Cubs pitchers to take the mound that afternoon in Chicago, only the Oklahoma State product escaped without allowing a run.
Who were the other four pitchers that day?
Maybe you recall right-hander Mike Bielecki, a key piece of the 1989 National League East pennant winning Cubs squad. Bielecki, who won 18 games the previous season, was chased after allowing eight runs (six earned) in just 1 2/3 innings of work.
You probably have little to no recollection of Kevin Blankenship, Dean Wilkins or Joe Kraemer.
The 1990 Cubs were atrocious, finishing in fourth place in the East with a 77-85 record. At least Wrigley Field got to host the All-Star Game that summer. It hasn't staged the game since.
In 2007 Dascenzo was named as the manager of the Fort Wayne Wizards in the Midwest, where I crossed paths with him and got him to sign this card for me. He was a nice guy and, I recall being told, a pretty decent golfer. He brought his clubs on each of the club's road trips.
There are a handful of late 80's and early 90's Cubs I have an irrational amount of love for (I'm looking at you Hector Villanueva) and Dascenzo is one of those players. He's currently the Cubs' minor league outfield and baserunning coordinator. When – not if – baseball resumes this season you may see him in Des Moines working with the Iowa Cubs, with whom he played parts of two seasons.
Before we part ways, a moment of appreciation for Score. The company joined the market in 1988 at a time when only Topps, Fleer and Donruss were producing baseball cards. In a pre-internet era Score's cards were filled with lengthy biographies of each player and were a great source of information for young fans of the game.