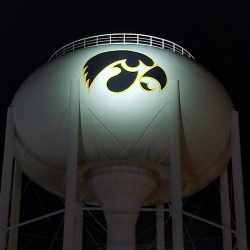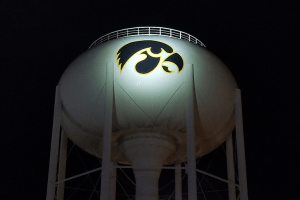 By Todd Brommelkamp/KGYM Radio
IOWA CITY – Jake Gervase was nearing the end of his time at the podium inside Iowa's postgame interview room when the small platform atop it collapsed on itself.
"Sh*t," the defensive back muttered.
Talk about your apt metaphors.
Iowa entered Saturday's game with Northwestern on the brink of a lost season. Dreams of a Big Ten championship were hanging by a thread, one the Wildcats took a dull pair of shears to in the form of a 14-10 victory.
As Northwestern's players donned Big Ten West championship hats and t-shirts the Hawkeyes outfitted themselves in street clothes and vacant stares.
"We're going to let this loss sting a little bit," said Gervase, before reverting back into tried and true Hawk-speak. "We'll keep our heads up, move on, keep trying to improve and finish the season strong."
The season, however, is already over. It ended at the hands of a familiar nemesis, a program that has been a thorn in Iowa's side for the better part of the last 15 years.
It ended after the Hawks' stout defense surrendered 184 rushing yards to a team that was expected to rely on quarterback Clayton Thorson's arm to survive Saturday's contest.
It ended with a smattering of boos and, long after most of those boo-birds had flown off to their vehicles for a solemn drive home, a Northwestern player doing a snow angel on the Tigerhawk logo at midfield.
"I told our players last week that we write our own history and that really hasn't changed," Iowa coach Kirk Ferentz said. "It gets decided on the field."
Well, it's written and no one likes the final draft.
A talented roster and a favorable schedule were reasons for optimism in 2018. Reality, though, has set in.
Iowa is 6-4, including 3-4 in Big Ten games. There is, according to sources, unrest between one of the team's star players, tight end Noah Fant, and the coaching staff. Ferentz became short with The Athletic's Scott Dochterman when the latter pursued a line of questioning about Fant's usage Saturday.
"We're playing the guys out there that we feel are best in the situations that's given to them," were Ferentz's final words on the matter.
Fant, for his part, didn't exactly throw a bucket of cold water on the embers of controversy. Reporters were gathered near a wall waiting for him to enter the postgame interview room as the junior huddled with a third-party public relations consultant in the hallway.
"What did he tell you to say?" joked a reporter once Fant entered the room.
The junior smiled and quipped that he was just getting some life advice. Then, most likely ignoring much of what he'd been advised on, he ever so gently fanned the flames of controversy by addressing his usage. Or, in this instance, lack thereof.
"It'd be nice to make a mandate and put myself on the field all the time," he said. "That's (the coaching staff's) job. That's what they're there for. That's what they get paid money to do."
Fant, a preseason all-American, was targeted just three times on Saturday. He had one reception for zero yards. He was clearly unhappy Saturday night but, to his credit, did his best to be as politically correct as possible when speaking to the media after the loss.
The Cedar Rapids Gazette's Marc Morehouse pointed out Fant's diminished role in the offense and asked point-blank what's going on.
"I'm not sure,"  Fant said. "Coaches decided to get some other guys involved. I'm not really sure. It'd be a better question for the coaches."
Enter Dochterman, who about 10 minutes later asked the first question following Ferentz's opening statement.
"Noah Fant was in the game for about eight plays in the second half, including none of which when you guys went to 11-personnel on one of the last drives. Is there a reason why he's not playing as much?"
What followed was as snarky an exchange as many of us have heard from Ferentz in his 20 years on the job. He pointed out 11-personnel would call for only one tight end and Iowa has two good options in Fant and sophomore T. J. Hockenson.
Dochterman pointed out Fant has played in the slot.
"That would be 12 personnel," Ferentz shot back, "or for 11?"
How about any play?
"Well, I think we try to feature our guys that are doing the best, whether it's T.J., Noah, (or) our receivers," Ferentz said. "No, I mean we're calling the game as we call the game and practice the situations we're practicing."
Dochterman, perhaps inspired by Northwestern's defensive effort, blitzed Ferentz with Fant's stats and all-American status, again asking why he wasn't on the field much on a day where the team mustered "300 yards or less of offense."
"Yeah, I think it was 330…333," Ferentz gleefully replied. "But anyway."
Yes, but anyway.
An exchange between a reporter and the head coach over the non-usage of a player proved to be more interesting – and more telling – than anything that occurred on the actual field of play Saturday.
It tells you everything you need to know about the Hawkeyes at the moment. One minute they look fine and the next minute everything is falling apart.
Sh*t, indeed.