By Todd Brommelkamp/KGYM Radio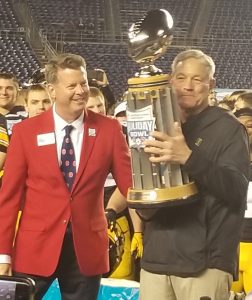 SAN DIEGO – In a stadium destined to be rubble soon enough the Iowa Hawkeyes demolished whatever was left of USC's delusions of grandeur.
A father and son had their moment as coach and coordinator.
The Hawkeyes danced the Hokey Pokey one last time.
Iowa 49, USC 24.
You know all the details by now. Friday's win over the Trojans capped the most successful five-year run in Iowa's history. Ten wins for just the ninth time ever. Forty-seven victories over a half decade. Three-straight bowl wins.
"The biggest thing for us tonight, it was a complete team victory," Iowa coach Kirk Ferentz said. "It was offense, special teams, defense. That's just good football."
That's…football.
That's it for the 2019 season.
That's it for Nate Stanley and his fellow seniors. Stanley, who became just the second quarterback in program history to finish his career with a 3-0 record in bowl play.
That's probably it for Holiday Bowl Defensive Most Valuable Player A. J. Epenesa and offensive lineman Tristan Wirfs, who barring a post-Christmas miracle will depart Iowa City early for the NFL Draft.
This is this and that is that.
Iowa turned the football world upside down Friday night, proving the Big Ten stalwart was more than just a clodhopping collection of two and three-star recruits.
"They're a name brand school: USC Trojans," said Epenesa, who with his Polynesian roots and first round talents wouldn't look at all out of place in a USC uniform. "To be able to come out and play like we did, to win the game, it's a good feeling."
A good feeling indeed.
"This team is probably one of the closest teams that I've been on in my four years here," said Stanley. "It's just extremely special to reap the harvest really. When you can go out and win with your teammates, especially against USC, in a primetime game in a place like this, it's extremely special."
Extremely special indeed.