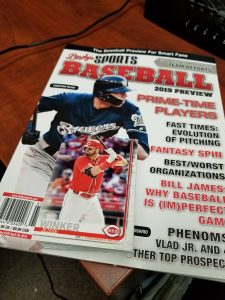 By Todd Brommelkamp/KGYM Radio
Friday marked the first day of February, which means the return of baseball is near.
Believe it or not, preseason baseball magazines are on newsstands despite there being roughly 100 free agents in limbo at the moment.
But, I buy one (or more) every year. It's tradition. I didn't even wait to come across a regional cover featuring the Chicago teams. Milwaukee's Christian Yelich and Eddie Rosario of the Minnesota Twins grace one of the covers for this year's Lindy's annual.
The magazine bills itself as "The Baseball Preview for Smart Fans."
A truly intelligent fan would have passed on plopping down $9 on a magazine while Bryce Harper and Manny Machado were still looking for work.
I also bought a "hanger box" of 2019 Topps baseball cards.
There was a time when opening the first pack of cards each year brought with it a special feeling.
There was also a time when I thought a small pile of Gregg Jefferies and John Olerud rookie cards would be financing my college education.
Seven cards into the oversized pack and I landed local product Scott Schebler. It notes he lettered in baseball, football, basketball, soccer and track while in high school but doesn't mention Cedar Rapids Prairie.
Right behind Schebler's card was Twins catcher Mitch Garver, the first of six former Cedar Rapids Kernels I'd come across. The others were Orioles slugger Mark Trumbo, Twins rookie pitcher Kohl Stewart, Blue Jays outfielder Randal Grichuk and infielders Niko Goodrum (Tigers) and Jorge Polanco (Twins).
My former co-host and I used to play a game where we'd guess the first player we'd come across from our favorite teams. Kyle Schwarber was the first Cubs card included in the pile of cardboard. Kris Bryant, Kyle Hendricks and a card featuring Javier Baez's Game 163 hug with Nolan Arenado were also contained therein.
Much like MLB at the moment, no Machado or Harper though.